I didn't always used to love Valentine's Day. When I was younger, I felt bad about myself on this day for not having a boyfriend and was jealous of all those who went on nice dates, received flowers, and who just got spoiled by their boyfriends. I've changed my mind about Valentine's Day in the past years, but I promise you it is not because I have a boyfriend now. Here's why...
Why I Love V-Day
It's so much fun to celebrate it with kids.
Even though I'm only subbing, I did get to share in the excitement of the kids bringing in their Valentine's Day boxes. A few kids shared theirs, and the boxes are just so creative and tell you a little bit about each child. One girl's V-Day box was shaped like a barn because she lives on a farm. To put the card in, you have to open the barn's doors, which I thought was pretty crafty. Yesterday when I was subbing in kindergarten, some of the girls told me that they had a secret for me and then whispered to me about what kind of Valentine's they would be giving out on Friday during their party. They made me pinkie promise not to tell their classmates what cartoon characters were on their cards because they wanted it to be a surprise. The kids' excitement is contagious!
It's an excuse to eat treats.
Some of the 3rd grade boys I was subbing reluctantly admitted that they also liked Valentine's Day. I asked them why and they mentioned, "Well, we do get to have candy and chocolate." I have to agree with them on this, although my personal favorite for this time of year is chocolate covered strawberries.
Celebrating Valentine's Day
is a tradition and brings back fond childhood memories.
Every time I eat one of those disgusting chalky hearts with the sayings on them, I'm reminded of Valentine's Day parties at school, signing cards for all of my friends, and getting a few special gifts from my mom.
I love the colors!
Red, pink, and purple are my favorite colors (besides black), so I'm certainly not sad to see more of those colors around. During this time of year, the colors pop up more in clothing and in makeup. I love putting on a red lipstick on Valentine's Day or painting my nails with heart designs.
I'm a hopeless romantic, so of course I'm going to be all for a holiday that celebrates love.
Even when I didn't have a boyfriend in my mid-twenties, I still had fun celebrating with my friends that I loved. My gay best friend at the time and I bought each other V-Day treats and cards and had a "date" of our own. Seeing other people in love gave me hope that I might one day find love myself.
The cards!
You don't have to have a significant other to participate in this holiday. I have bought cards for my friends, co-workers, and for my students in the past. Maybe it's old fashioned of me, but I like getting actual cards as opposed to a Facebook message or e-card...especially if they are handmade. I keep them forever!
Why do you or don't you like Valentine's Day?
Now for my
Valentine's Day Swap reveal
... I'm linking up with
Rachael
and
Ashliegh
for this.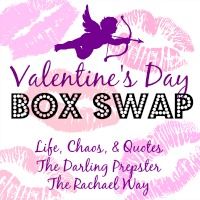 "
My partner was Lola, a friendly gal from North Carolina who blogs over at
Lovely Lola
. She was a great partner and was easy to talk to! I hope that we can stay in touch through the blogging world.
What a great collection of V-Day themed treats! I've already started eating those Twizzlers, the necklace/earring set is adorable, and no one can go wrong with B&BW lotion! The teacher pin was a nice touch since Lola knows that I'm subbing and that's what my degree is in. Thanks, girl!!
Happy Valentine's Day, everyone!!