I wanted to wrap up my week this time by stating what I'm thankful for.
*I'm thankful that I got some great coupons in the mail! I got to go shopping, but I only spent $2 because I got a free travel sized item from Bath and Body Works and a $10 birthday gift card sent to me from Victoria's Secret.
*I'm so relieved that I did not get sick and hope I didn't just jinx myself. On Friday, a student I subbed for got violently ill in the lunch line. I'll spare you the nasty details, but let's just say I had to hold the trash can for her.
*I can breathe a sigh of relief knowing that I didn't gain any weight this week. I didn't lose any, but I really thought I gained!
*I'm thankful that my boyfriend cooked me some spaghetti and chicken last night and brought home some subs for us from a new place in town earlier in the week.
*I do usually prefer closing shifts at the movies because those ones tend to be less stressful, but I must admit that it has kind of been nice opening and having my nights off.
*Even though I worked a lot this week, I still found some time to Netflix it up with Breaking Bad. I'm obsessed with that show even though at random points throughout the day I'll think about Tuco's grill and start gagging. #scarredforlife
* I'm thankful subbing went well on Thursday. I thought a kid got seriously injured at recess because he came in the door with blood smeared all over his face. Before I could even ask, he told me that he lost his tooth while he was out playing and that he swallowed it. Haha!
* I got scheduled with two of my work buddies, and shifts always fly by when I work with the two of them.
* I'm pleased that I found this cool jewelry organizer for bracelets. It's made with black velvet, seems sturdy, and was reasonably priced on Amazon for $19.45. I feel like I will wear my bracelets much more often now that they are in plain sight and on display. Plus, they won't get tangled up with my other jewelry in my jewelry box. I really love this bracelet organizer and now want an earring and necklace organizer, too.
Looking forward, I'm thankful that I get to meet up with Rachael again this week! I'm so lucky that I live nearby one of my blogging buddies. Also, I'm ecstatic that I'll be on VACATION this week!! I haven't had a week off since last May when I went to South Africa, and that was on a study tour. It will be so nice to just do exactly what I want to do and to catch up with my sister!
What is something that you're looking forward to?
Here are the rules to the link up:
1) Follow your hosts Rachael @ The Rachael Way and Lisa @ Ameliorer la Vie.
2) Share what you have been up to this past week and link your post up with us every Monday.
3) Hop around and comment on at least two other people's posts.
4) Link your post back to us in some way. We have a cute button for you to grab. :)
5) Have fun reading about how other bloggers spent their week!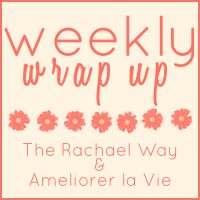 Our co-host for the week is Kat. Please follow her via
Bloglovin
or
GFC
to link up with us this week.