The last of the three
Fair Treasure
boxes my sister ordered me for Christmas arrived earlier in the week. If you're curious about what I received in
January's box
or in
February's box
, head on over and read my reviews.
Just to reiterate what I've stated in previous posts, Fair Treasure is a monthly subscription service that includes 2-3 fair trade items in each box. The cost per box is $35 a month or $95 for three months, which is 10% cheaper than the monthly rate.
Unlike the other months, for March there was a theme to the box, which was "The Spring Equinox Box." The two items I received definitely follow the theme and remind me of spring.
Onto the goods...
*Shesham Butterfly Box from Archana Handicrafts--Value of $7
*Wristlet from Malia Designs--Value of $29
Value:
This month's total value is $36, which is only one dollar more than the $35 price of the monthly subscription. I've noticed that this is pretty typical, but at least the items are always a little bit more than the cost of a one month subscription and not less.
Shesham Butterfly Box:
This wooden box comes all the way from New Delhi, India. Although it doesn't specifically say anywhere on the information card that this box is hand-carved, I assume that it is. This box reminds me a bit of a box I already own from Bali that is hand-carved, though the one I have is not shaped like a butterfly. I think the box is cute, and I'll probably put this on my dresser. Since there isn't a whole lot of room in the box to store items, I'm thinking that I'll be putting my small collection of studded earrings inside.
Wristlet:
I was surprised to get an item like this in my Fair Treasure box, just because I've never seen any type of purse included before. Even though the wristlet is a little different, I have to say that I really do like it. The only other wristlets that I own are very tiny, so this one is more practical since I'd actually be able to fit my wallet, cell phone, and a couple other essentials inside. The color of the wristlet is very spring-like and I'm sure I'll be wearing it a lot next season.
This product was made in Cambodia and comes from a company (Malia Designs) that uses revenue to support victims of human-trafficking.
Do you like them items in this month's Fair Treasure box?
Also, I wanted to post a reminder to link up your week or weekend in review with
Rachael
and I on Monday for
Weekly Wrap Up
!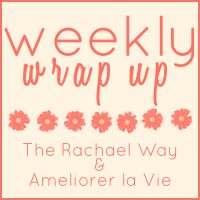 Last but not least, I hope you'll enter the giveaway below. There is a chance to win a $50 Starbucks gift card!!
a Rafflecopter giveaway