This week I had to work every day except for my birthday because schools were out on spring break, so the theater was a busy place. On Wednesday, a co-worker brought in some Funfetti cupcakes for me for my birthday! So sweet! Later that night, I headed over to my parents' house to celebrate with more cake and ice cream. I stayed later and just chatted with my mom for awhile.
On the day of my actual birthday, my friend Dre stopped by my house and picked me up so that we could drive down to Columbus. Our first stop was to go to First Watch to have some brunch. I used to go there for brunch all the time during my senior year of college, but haven't been in forever because there are none around me. Well, the main reason I went there was to cash in my birthday coupon that they sent me, which was for a free entree. I opted for an omelet with home fries and an English muffin. Not too shabby of a birthday freebie, if you ask me and Dre had never been to First Watch before, but she liked it. Afterwards, we headed over to the mall to stop in Charlotte & Russe because they were having a $5 scarf sale. Unfortunately, none of the scarves appealed to us and we could see why they were only $5. I did stop by Sephora and pick up my free birthday gift, which was a mini mascara and neutral lipstick by Make Up For Ever. Next, we stopped at DSW to go shoe shopping. I got the cutest pair of peep toe wedges. They're red and the wedges are not too tall at all! When I was trying them on, they were really comfortable, and to top it off, I had a coupon for $20 off a $49 purchase, so how could I refuse them? :)
Our next stop was to go to the Columbus Zoo...I hadn't been to Columbus Zoo in more than 10 years, so I wanted to go back and figured why not do it on my birthday?
I had a good time checking out all the animals--my personal fave was the Arctic fox. God, those things were adorable!! My least favorite was the binturong. We walked into this building that housed a bunch of animals, and inside it smelled like corn chips or popcorn, which I didn't mind at first because I thought some kids were eating a snack in there. When I stopped by the binturong, I read that the smell was actually that animal!! Dre says I'm crazy and weird for this, but that grossed me out so much that I started physically gagging and made her rush away from there. Still when I think about that animal smelling like popcorn, I get really sick to my stomach...Maybe it's because I have to smell popcorn all day at work?? I don't know, but I was glad to get away from that animal!! I also liked the polar bear exhibit because there's water for the bear to swim in, but it's set up aquarium style, so that you can watch the bear swim through the glass.
Even though it snowed earlier in the week, and schools were on 2 hour delays, the weather warmed up and I enjoyed some NICE weather on my birthday. It was the first time I was able to walk around with no spring jacket on, and the skies were blue and not overcast!
After the zoo, Dre and I went to BD's Mongolian BBQ for dinner. She laughed at me because the only time I had ever been there was in Mongolia. BD's Mongolian BBQ was the first American chain restaurant that was allowed into Mongolia, sorry McDonald's. Even though we were starving from walking at the zoo all day, we got stuffed after heading up to the grill twice. I love the cards they provide you with because I ended up following their "recipe" and had pad thai. The best part is that my meal was like $2 something because...you guessed it...I used a birthday coupon! Hahaha... if you think I'm obnoxious with this, I totally am!
Finally, we headed to Rita's so that we could get some custard and laughed over one of the toppings which just said "wet nuts." Dre is the one that pointed it out giggling and asked me if I knew what wet nuts were, but I also never heard of that ice cream topping. She texted her friend who owns a Rita's in North Carolina and he said it was walnuts and caramel, although when I googled it, I saw it was walnuts in maple syrup.
All in all, I had a great day!! It was so awesome to hang out with Dre the whole time, and we both really enjoyed ourselves!
How was your week?? Link up with us below and share!
Here are the rules to the link up:
1) Follow your hosts Rachael @ The Rachael Way and Lisa @ Ameliorer la Vie.
2) Share what you have been up to this past week and link your post up with us every Monday.
3) Hop around and comment on at least two other people's posts.
4) Link your post back to us in some way. We have a cute button for you to grab. :)
5) Have fun reading about how other bloggers spent their week!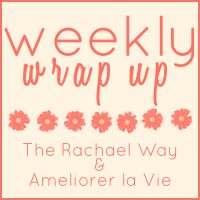 If you would like to tweet about the link up, feel free to use #weeklywrapup.