This past week, I have been enjoying my birthday gifts. Some of my faves are the Coastal Scents Palette from my sister, Melissa. Now I have 88 new shades of eyes shadow to play around with. I also finally got a copy of The Book Thief from my boyfriend. I saw the movie over the winter, and have been wanting to read the book for awhile now but the waiting list at the library was always too long.
The most fun thing I did this week was to meet up at a Japanese restaurant with my OSU friends, Scott and Allyson. Scott was a member of my Masters of Education cohort, and we had classes together for three years in a row. We were also paired as teaching partners in a kindergarten classroom. Scott is loud, gets me into trouble, and also makes me obnoxious in public places, even though I am usually a quiet person. I feel like I should pay Scott for amusing me for three years with his antics when our classes were boring--he was also pure entertainment the night we hung out. Allyson supervised me in the field for some of my teaching placements, and we went on a trip to Haiti together. The three of us all roomed together on a trip to South Africa last year and had the best time, so we did a lot of reminiscing about that. Allyson brought an album she put together and got printed from Shutterfly--it's the cutest and I'd like to make one of my own. The three of us hadn't hung out in awhile, and had a ton of catching up to do. Scott is going to move to NYC and try to get a role on Broadway and Allyson told us about her first year as an instructor at OSU. After dinner, we went to Menchies...we actually gabbed for over three hours, and made tentative future plans to go traveling together again.
For most of the week I was suffering with bronchitis and feeling kind of miserable, but when I was on the mend, I did make it out to Target for a mini shopping spree. Two items I'm excited about are L'Oreal's Pore Vanisher and another Color Whisper lipstick in A Plum Prospect. I tried a free sample of the pore vanisher in a magazine and thought it worked well and it is even supposed to make pores smaller over time.
Last night after work, I met up with my boyfriend so that we could see Captain America: The Winter Soldier. Since we didn't have a lot of time between when my shift was over and when the movie started, we wanted to grab a quick bite to eat, so we stopped at Cici's. I have a love/hate with that place because I eat too much and my favorite pizza is the unhealthy mac & cheese pizza, but it is tasty and cheap!
Captain America:The Winter Soldier was kind of boring and confusing at first, but then I thought it got a whole lot better. I did get a little distracted with the French (I was testing myself to see how much I could remember and was trying not to look at the subtitles) and then got distracted many more times throughout the film because I couldn't stop looking at the background since it was shot in Cleveland. It was pretty cool to see places I recognized in a big Hollywood blockbuster.
How did you spend your weekend?
Here are the rules to the link up:
1) Follow your hosts Rachael @ The Rachael Way and Lisa @ Ameliorer la Vie.
2) Share what you have been up to this past week and link your post up with us every Monday.
3) Hop around and comment on at least two other people's posts.
4) Link your post back to us in some way. We have a cute button for you to grab. :)
5) Have fun reading about how other bloggers spent their week!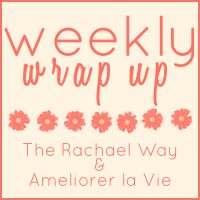 If you would like to tweet about the link up, feel free to use #weeklywrapup.
Follow her on Bloglovin' to link up this week with us!