The biggest and most life-changing thing I did all week was to finally put in my notice at the movie theater I work at! This is bittersweet because I started working for the company when I was in high school and was looking for a part-time job to help me save for college. I certainly never planned on working at the theater as long as I did, but I ended up working in various theaters for ten years! Working at the movies was a great fit for me because after I moved away to college, the managers suggested that I come back and work over breaks and over the summers. They always needed the extra help at that time because Christmas break and the summer months are typically the busiest times of the year. It was convenient because I didn't have to go job hunting just for a couple of months, and if I ever needed some extra cash, I could always ask to be scheduled over a weekend. Right after I graduated college, I was promoted to assistant manager and worked as one over the summer before I left and taught in Korea. After Korea and while I was trying to set up a nannying job in Italy, the movies took me back again as an assistant manager. Once I returned from being overseas for three and a half years, I knew that I wanted to pursue my Masters in Education. I had to do a year of pre-req's and then the Master's program itself was two full years. During that time I knew that I needed a part-time job, and again started working at the theater because they worked with my schedule.
If I didn't request off, yes, I would automatically be scheduled most of the weekend and on holidays, but there has actually never been a time I can think of where I asked for a day off in advance and did not get it. Also, my college schedule changed every quarter, and part of the reason I stayed at the movies for so long is because my boss there was always willing to work with me, even during my student teaching. Almost everyone else I went to school with had to quit their jobs because employers would not work around their ever-changing class schedules. I'm so grateful that I was able to stay on, even when I was taking a ton of classes!
Another reason why working at the movies worked out well for me is because my general manager is nice and I really only have to answer to him. Nothing is worse than having to go into work every day for a boss that you dislike, and thankfully I never had any problems with the boss I currently work for. I feel like a bad boss can make or break a job, and I'm glad I did not have to deal with that kind of negativity at the theater. Also, assistant managers run a lot of their own shifts while the general manager isn't there, so I would be the one in charge of the staff. I really like that aspect of the job.
Other perks were free movies, free posters and banners, paid time off, and free popcorn during my shift. I even got a small $400 scholarship from the company! I also liked the contests on who could sell the most gift cards or promo tubs/cups. I would always win those and leave with a gift card--what can I say, I'm extrinsically motivated.
There are still a couple of workers left that have been there since I started, and it's going to be sad to not work with them ever again. A lot of my friends, even today, are ones that I made while working at the movies.
Still, I'm confident that quitting is the way to go. No one really makes decent money except for the general manager. There are opportunities to move up the ladder and become a GM, but personally, I don't think that would be worth it to me. General managers get texted and called frequently by their assistant managers (I know this because I have to text my boss a lot because stuff just comes up!), have to come in on their days off when being audited, and get called in the dead of night if the alarm ever goes off. Also, I would not want to deal all the maintenance aspect of being a general manager or the very serious customer complaints, for that matter.
It is time for me to move on, and while in some ways this is upsetting, I am hoping that the future will bring great things my way. :)
Here are the rules to the link up:

1) Follow your hosts Rachael @ The Rachael Way and Lisa @ Ameliorer la Vie.
2) Share what you have been up to this past week and link your post up with us every Monday.
3) Hop around and comment on at least two other people's posts.
4) Link your post back to us in some way. We have a cute button for you to grab. :)
5) Have fun reading about how other bloggers spent their week!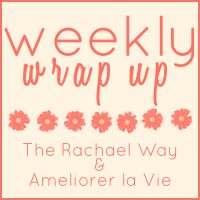 If you would like to tweet about the link up, feel free to use #weeklywrapup.
Please follow her on GFC or Bloglovin' to link up with us this week!
If you haven't already done so, check out this great giveaway!
Jordyn - The Fairy Princess Diaries | Kelly - Six One Six | Christina - Happy or Else | Ashten - Always Ashten a Rafflecopter giveaway