This week was another week of full time subbing for me with first graders. I have to say that everything went very smoothly and I've been getting compliments from the other teachers saying what a good job I've been doing, which means a lot! I'll have the kiddos again for three days this week, until their last day of school. Even though last week I was feeling overwhelmed, this week has been a breeze because I know all the students' names as well as their personalities and now I know their routine as well. Also, I figured out that the students will be on their very best behavior in order to play this game:
The game asks questions like, "Would you rather eat fried monkey brains or eat the raw guts from a huge snake?" I ask the kids the questions at the end of the day as a reward if they've been a good class for me.
Work at the movies did not go as well as subbing...Thank goodness we weren't that busy or I would have been in big trouble. A worker was 2 hours late because of a flat tire, one new girl didn't show up at all, one girl called off, another girl cut herself (but ended up being okay), and then another worker threw up and had to go home. Of course when I tried to call in workers, no one answered or even called back. Luckily, a girl there agreed to work over for the gal that got sick. That was really nice of her considering she then had to work 12 hours that day.
I also checked out Five and Below, and have to say that I kinda like it! I own a lot of Toms shoes, but found some knock-offs there for just $5. Since my clothes and shoes get ruined at the movies, I bought the shoes to wear during my last few weeks there and if they get wrecked, it's five bucks, so who cares?
On Saturday my boyfriend and I went out to eat at a new Mexican place in the area. We were both really impressed! I got one of their specialties which was steak, chicken, and shrimp fajitas. It was only $11.25 and the portion was huge and they didn't skimp on the shrimp, which most places usually do. The service was really fast, too. Also, since this restaurant isn't in the center of town, it was less crowded so we didn't have to deal with the waits usually associated with going out to eat on a Saturday night.
Yesterday a co-worker invited me to go see the new X-Men movie with her and two other girls from my work. Honestly, I have only seen like one other X-Men movie and parts of Wolverine, so it's safe to say that I'm not the #1 fan of X-Men movies. I saw X-Men: Days of Future Past mainly because it was free and because of Jennifer Lawrence! The movie was good, but I'm sure I would have liked it more if I knew the back story and more about the powers that the different characters possessed. The movie that I have really been dying to see is Maleficient. Then, I ran into a friend who used to work with me at the movies for several years when we were teenagers. We reminisced and had a lot of laughs at some of the crazy (like both legitimately crazy and fun crazy) co-workers we worked with over the years.
Don't forget to share what you've done this week and link up below!
Here are the rules to the link up:

1) Follow your hosts Rachael @ The Rachael Way and Lisa @ Ameliorer la Vie as well as our co-host, Alisia @ Boarding Together.
2) Share what you have been up to this past week and link your post up with us every Monday.
3) Hop around and comment on at least two other people's posts.
4) Link your post back to us in some way. We have a cute button for you to grab. :)
5) Have fun reading about how other bloggers spent their week!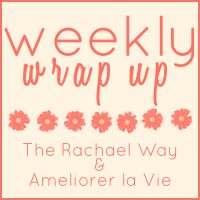 Our co-host this week is Alisia of Boarding Together! Alisia blogs about her twenty-something life in Ohio. Her writing style is honest and fun. I'm sure you will love her blog!