Happy Monday! I hope that last week was a great week for everyone. This week was a little different since it was the first week in a loooong time that I did not substitute teach! I still worked at the movies, but I felt like I finally had ample time off. Even though I worked the weekend, I had a few days off throughout the week, so that was a treat that I'm not used to.
On Friday I drove to my parents' house and took my mom out to eat for her Mother's Day gift, which is what she told me she wanted. We went to a local diner that she loves. I'd never been to that location, but we both had a great meal. My mom kept thanking me saying that she enjoyed the company and the food. Now I just have to think of a Father's Day gift for my dad since that is right around the corner.
Also, I had my last day of work at the movies...I think. I told my boss not to put me on the schedule until further notice. "Further notice" hopefully translates into never, and I was upfront with him about that, although he told me that of course he wants me to stay. I only told one floor staff member that I'm leaving and just a couple of the managers. I just wanted to keep everything very low key, though I did tell one of my best work pals that we had to get in a picture together to commemorate our time working together (ignore ugly background--we aren't allowed to have our phones on the floor in front of customers.)
I was busy this past week taking care of some stuff that I don't really want to blog about at this time. I started thinking about it and decided that I need to take a blogging break. I have ideas for posts, but I just have too much going on in my personal life right now to regularly schedule three or more posts a week. I'll be back every Monday for Weekly Wrap Up, but for the next two weeks, I probably won't be around here much. I still love blogging as a hobby, but right now I just have to put it on the back burner while I take care of more important things. Sorry to be ambiguous, but I'll likely explain everything in a future post. What's your take on blogging breaks? Have you ever gone on one?
Here are the rules to the link up:

1) Follow your hosts Rachael @ The Rachael Way and Lisa @ Ameliorer la Vie as well as our co-host Allison @ Because I Said So.
2) Share what you have been up to this past week and link your post up with us every Monday.
3) Hop around and comment on at least two other people's posts.
4) Link your post back to us in some way. We have a cute button for you to grab. :)
5) Have fun reading about how other bloggers spent their week!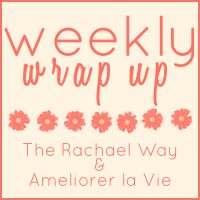 Link up here!