I'll be wrapping up my week by writing about my highs and lows.
HIGH: I had a great time swimming on Monday with Ev, his mom, and his baby nephew. I even swam 20 laps! Okay, the pool is small, but still...my arms were sore, so that says something, right?
LOW: I got an e-mail back for a job I applied for saying they rejected me...which pissed me off a little because they didn't interview me and I had every qualification they asked for. Arghh. I have to not take it personally. I mean, who knows? Maybe the job was filled already or maybe they had to post it by law but had an internal candidate. I just have to let it go.
HIGH: Despite that e-mail rejection I received, I have a good lead on a job that I am pretty much guaranteed. That is a relief to know!
HIGH: I made a Ranch pesto rigatoni bake for Everett and Jared using this Pinterest recipe and it turned out really well. It was so easy to make, and I didn't have to go out and buy many ingredients for it.
HIGH: This weekend I headed back to Ohio and got to see Rachael! I didn't think I'd be able to see her again before she left for China, but this spur of the moment trip back to Ohio made it possible! Yayyy!! We went to Applebee's and saw 22 Jump Street. I never would have thought that I would make such a good friend through blogging!
LOW: I was not feeling well at ALL on Saturday...I think I had some bad food. It pretty much ruined my whole day.
HIGH: I got to see my parents a little this trip. We played some cards, and then my mom took me to Wal-Mart and bought me two Essie polishes. (Hellloo Play Date and For the Twill of It!!) I love how I'm in my early thirties and my mom still spoils me! :D
HIGH: I am so picky about my hair because a lady three years ago cut my hair into a mullet-like shape, and I finally found a hairdresser that did a good job in Ohio. I was wondering where I was going to get my hair done in Georgia, but since I'm back in Ohio now I was able to squeeze in an appointment at my favorite place!

HIGH: Being back in Ohio is making me 100% sure that moving was right for me! Don't get me wrong, there are things I really like about Ohio, but so far I'm much happier down in the Savannah area.
What were the highs and lows of your week?
Weekly Wrap Up Button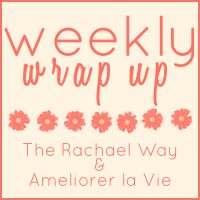 Remember, there are no rules to join in the Weekly Wrap Up link up besides that the post should be about your week/weekend.
Don't forget that Rachael and I will re-tweet anything you tweet at us using #weeklywrapup, and if you would like a reminder e-mail, sign up here.