Hmmmm....What I've been up to....
Well, in order to maintain my weight and to still be able to splurge on junk food, I've started walking around the local pond several times a week. Technically, I really started walking a lot because I wanted to lose weight, but there are so many temptations here (scroll down and view the rest of this post for examples, or just look here and here.) Once I started exploring Savannah, I knew that I would want to try out oh...a bazillion restaurants and decided not to deprive myself of that. Hopefully the all of the walking I now do (and didn't do before) will cancel out going out to eat so much over the weekends. I'm not expecting to lose any weight, but just don't want to gain anything, and so far it seems to be working.
Anyway...One time around the pond is a full mile, and I usually try to go three miles each time I go. Everett will go around three times in the morning AND three times at night almost every day, so he is pretty hardcore about it. Ever since I moved here, I've also been trying to walk around Savannah a lot, too.
This week was a pretty chill week. I applied for some more jobs, did some reading, and watched a lot of Scandal with Everett and Jared. On Saturday, someone in Ev's family was having a birthday at a Japanese steakhouse. I like anything hibachi, so I decided to tag along. When we were almost done with our meals, I started to get a pounding headache, and decided to call it a night even though I would have preferred to have gone out. In the end, I was happy with my decision to just rest because my headache lingered for a good two hours more.
On Sunday, we went out to Dairy Queen to celebrate National Ice Cream day. (Aka I wanted an excuse to have some ice cream day.)
Then Ev and I went grocery shopping because I was going to cook dinner. Ev kept bugging me about watching Poltergeist because I had only seen snippets of it as a child and had never seen the whole thing. Even though the special effects are dated, I have to confess that the movie still had some scenes that made me jump. When Jared came home from work, I actually screamed because we weren't expecting him for another hour, so I was startled when he came in, lol. #biggestwussever During the movie, Ev and I decided to have a bunch of snacks like kettle corn, toasted French bread with this raspberry-jalapeno jam, and a cookie. Needless to say, we weren't hungry for dinner, so I didn't make it. Now I'm pretty sure that you can see why walking around the pond so much is a necessity! :)
I'm wrapping up my Sunday night writing this post and afterwards, I plan to finish the rest of The Fault in Our Stars. It was another great week for me here in Georgia!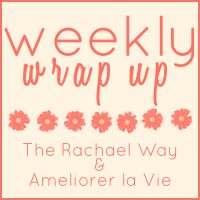 Remember, there are no rules to join in the Weekly Wrap Up link up besides that the post should be about your week/weekend.
Don't forget that Rachael and I will re-tweet anything you tweet at us using #weeklywrapup, and if you would like a reminder e-mail, sign up here.
This week our co-host is Melissa from Daily Chaos. I hope can get a chance to visit her blog and show her some love!