Rachael and I decided to make some changes to our Weekly Wrap Up link up so that it's easier to link up with us every Monday. These changes were based on some feedback that we received. If you have any suggestions for us on how we could make the Weekly Wrap Up better, leave a comment and we will take what you say into consideration.
Here's what you need to know:

* We did away with all of the rules besides that your post should be something about your week or weekend. We would like for you to link back with us by using one of our buttons, but it is not required.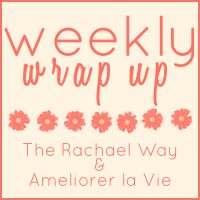 * If you tweet anything to us using #weeklywrapup, we will retweet you.

* Rachael and I may also tweet about a couple of posts that we like every week. Free promotion for your blog! :)

* We are going to make our posts go live on at 12:01 AM on Monday. I think publishing them at 8 am was too late for some people who have early AM jobs and who like to link up first thing.

* Some advice we got was to send a Weekly Wrap Up reminder e-mail, which will be sent out every Sunday, starting next Sunday. If you would like to sign up to receive the e-mail, please click here. Don't worry, we will only send you the e-mail if you sign up for it.

* We will still be keeping the co-hosting component. Interested in co-hosting? Read Rachael's Weekly Wrap Up post on Monday and she will have details about how you can co-host! (It's free!)

If you linked up with us in the past, what did you like about the Weekly Wrap Up? If you have never linked up, why not? :)