Happy Friday, everyone!! I'll just go ahead and dive right into my five points.
1) Rachael and I talked and decided that this Monday would be the last week for our Weekly Wrap Up link up. With her being in China, it's harder for her to access the internet, plus there's the whole time difference thing. We wanted to thank everyone who linked up with us! I know I found some great blogs through the link up such Becca's blog and Lora's. Hopefully you can join us on Monday for our very last link up!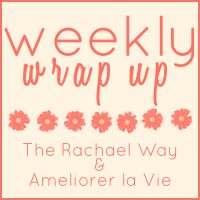 Speaking of link ups, I'm excited about this new one called Create Your Own Adventure which is hosted by Steph @ Life According to Steph and two other gals. Each month has a different theme, and the very first one is all about fitness goals. I don't know about you, but I always have so much trouble in this area. If I'm being held accountable, I definitely do better because it would be so embarrassing to link up next month saying, "Well, I exercised once and had cookies every day." When I participated in a spending freeze with Steph, I was able to save so much that month. (And...just noticed that I typed "shave" instead of "save." Good thing I caught that!!) Click here and scroll down to #9 for more details about this link up!
2) I heard on the radio that there is a casting call for Magic Mike 2, which is set to be filmed in Savannah. If I don't start working soon, maybe I can try out to be one of those women screaming in the crowd?? Hahaha.
3) Everyone is talking about fall, and I'm not feeling it at all. Don't get me wrong, if I was living in Ohio, I'd be all about it. After all, it's still my favorite season. It's just that it has been 90 degrees here most days, so nothing about that temperature feels like fall to me. I'm not even craving a pumpkin spice latte. Everett says the leaves usually start changing here in November, so in a month or two I'm sure I'll be more in the fall spirit, but for now I'm still enjoying summer weather and might even go swimming this week. :)
4) This is just a reminder that Nancy and I are hosting a journal swap and sign ups are still open. I know that I've met some awesome bloggers through swaps. So why not make a new friend and get a journal, too? Click here to sign up!
5) I finally had a job interview this week. Seriously, I do feel better about that...I was starting to feel sorry for myself and get all mopey about not getting call backs, and frankly, those feelings are just gross. I hope all goes well! I honestly cannot wait to start working again.

Anyone have any exciting weekend plans?