1) Last Wednesday, I posted that I wanted a Lilly Pulitzer agenda. I ended up purchasing the one pictured below and it is on the way to me! :D It has been AWHILE since I invested in a nice planner, so I have a feeling that I will put this one to good use. I can't wait to actually have decent space to plan out my blog posts!
2) Last week when I was commenting on everyone's Weekly Wrap Up posts, I came across a post called "Big Girl Pants and Neck Pain" by Tricia Coniglio. In her post, Tricia mentioned how she will get a massage at the local massage school from students in order to help her neck pain. The idea is BRILLIANT because I know that I cannot afford to spend $75 a week on getting a one-hour long massage. Of course, I always tip my masseuse about ten bucks, so the cost is really more like $85. I ended up searching for massage schools around Savannah, and I found one that charges just $30/hour for a Swedish massage and $35/hour for a deep tissue one! I do suffer from lower back pain, and when I went to the back doctor he just told me that I have degenerative discs and to "deal with it." I'm so glad I paid over $200 for him to tell me that. I've been "dealing with it" since my late 20's and I went to him for help, of which I received none. After reading Tricia's post, I got even more mad at that doctor for basically being useless and realized that Tricia is right--we need to listen to our bodies. Now that I found a more affordable option, I hope to get massages on a regular basis and think that it might help!
3) Tomorrow I'm co-hosting a link up with Becca, Heather, and Rachael called Bag Lady Link Up. All you have to do is pick any bag that you own (beach bag, makeup bag, purse, suitcase) and let us know what you have in it. In the past, I've written about what I had in my purse and what I had in my bag for subbing. Grab a button and link up with us tomorrow at midnight!
4) I just found out that there is a food and wine festival coming up in Savannah in November!! There are many different types of events from cooking classes to 5 course meals, but the one that appeals to me the most is called Taste of Savannah. Basically there are all sorts of food booths and wine exhibitors, and best of all tickets are now 20% off!
5) Garden State is one of my favorite movies of all time. It was directed by Zach Braff and he also starred in the movie. Braff's follow up, Wish I Was Here, is now out in theaters and one of my best friends (who knows my movie taste completely) told me that I am going to love the movie. (I hope she's right.) At any rate, I cannot wait to see it!! I'm going to have to drive a bit further away to see it because it's not playing at the theater closest to me, but I have a hopeful feeling that it will be worth the drive.
6) I just signed up for a mug swap through Kallie's blog, But First, Coffee. This is her 2nd mug swap...see which mug I got at the first mug swap here. I haven't been doing a lot of swaps lately, but couldn't resist signing up for this one.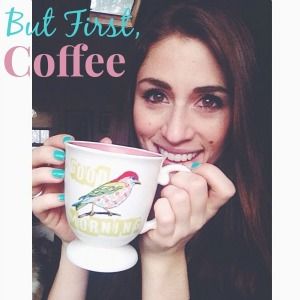 What are some things in your life that you're excited about??